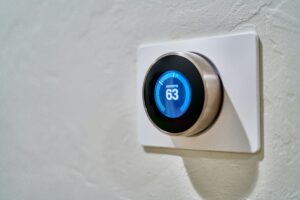 Utilization of the latest technology to reduce your likelihood of a claim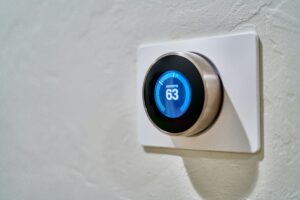 Technology has made significant strides in the past five years, offering homeowners the ability to control and monitor various aspects of their homes through mobile devices and Wi-Fi-enabled routers. By incorporating do-it-yourself tech items into your home, you can mitigate the risk of insurance claims related to burglary, water damage, fire, and freezing damage. Consider these innovative options:
Smart Thermostats: In addition to reducing energy consumption, smart thermostats allow you to monitor your home's temperature even when you're away. This feature is particularly useful in preventing frozen pipes and subsequent water damage caused by sudden drops in temperature. Adjusting the thermostat remotely via a Wi-Fi signal helps keep your home protected while you're abroad.
Smart Garage Door Openers: Ever left the garage door open all night or questioned whether you closed it after leaving the house? Smart garage door openers connect to your Wi-Fi system and send notifications about the door's status. With a few taps on your mobile device, you can ensure that your belongings remain safe and secure.
Water Sensors: Install water sensors in strategic locations such as behind toilets, near dishwashers, and behind refrigerators with water/ice makers. These sensors alert you to the presence of standing water, helping you detect leaks early and prevent extensive damage. They can be integrated with your existing alarm system or operate independently via Wi-Fi connectivity, with prices starting at around $60 per unit.
Smart Smoke Alarms: Smoke alarms play a crucial role in safeguarding your home against fire and smoke damage. With Wi-Fi-enabled smoke alarms, you can link them to your home security system and receive alerts remotely. Prompt notifications ensure that you can take action immediately, even when you're away from home.
Smart Locks: Never worry about whether you locked the front door again. Wi-Fi-enabled smart locks allow you to lock and unlock your door using a battery-powered mechanism and a Wi-Fi signal. This convenient feature eliminates the risk of leaving your front door unlocked.
Humidity Monitors: High humidity levels can indicate water leaks or excessive moisture in your home, which can lead to damage. Humidity sensors integrated into devices like thermostats, furnaces, and home video monitors can provide early warnings, allowing you to address potential issues before they escalate.
Embrace these technological solutions to enhance the safety and security of your home. If you have any questions about your home or renters insurance, feel free to contact us for expert guidance on finding the right coverage and pricing tailored to your needs.
https://handkinsurance.com/wp-content/uploads/2023/08/Utilization-of-techonlogy-to-reduce-claims-300x200-1.jpg
200
300
Admin
https://handkinsurance.com/wp-content/uploads/2017/01/HK340.png
Admin
2023-08-24 11:16:16
2023-08-24 11:16:16
Utilization of the latest technology to reduce your likelihood of a claim