Is it Time To Purchase Life Insurance?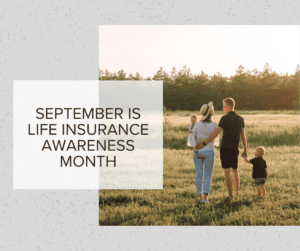 September is Life Insurance Awareness Month. As your local independent insurance agency, we are here to make you aware of the benefits of purchasing a life insurance policy. There are many options to choose from so if you have specific questions, reach out to our agency!
Life insurance is designed to provide financial stability to your family if you pass away. Life insurance policies vary with how they can provide financial support. It could pay for monthly bills, and funeral expenses or provide a lump sum of cash.
When Should You Consider a Life Insurance Policy?
If your family relies on your income to pay monthly expenses, you should consider a life insurance policy.
Other scenarios typically can be:
You recently bought a home
You have a child or multiple children
You are getting married
You are a financial resource for your parents
You pay for long-term care for your child or parents
You plan to pay for your child's college degree
The younger you purchase a life insurance policy, the cheaper your premium typically is. Life insurance is calculated by your age, health status, medical history, occupation, your behavior, and the type of coverage you want.
Coverage Options for Life Insurance
There are many types of life insurance you can purchase. The two most common policies are term life insurance or whole life insurance. Term life insurance is designed to cover you for a specific amount of years, whereas whole life insurance is for your entire life.
Other coverage options include universal life insurance, variable life insurance, mortgage replacement insurance, or final expense insurance.
Our agents are here to help you determine the best fit for your needs. Insurance is not a one-size-fits-all all. We will listen to how you want to provide financial support to your family through life insurance and can explain your coverage options.
If you currently have a life insurance policy, now might be a good time to review it.
Do you need to update your beneficiaries?
Are you happy with your current policy? If you need to make an adjustment to your death benefit or are seeking a better monthly premium, we can help.
Ready for a Life Insurance Quote?
If your spouse or family depends on your income each month, protect your family with a life insurance policy. Our licensed agents can find you the best life insurance policy for your needs and budget. By giving our agency a call or filling out a life insurance quote on our website, our licensed agents can provide multiple life insurance quotes. Our agency represents several life insurance companies and we can match you with the best fit.
https://handkinsurance.com/wp-content/uploads/2023/09/September-is-Life-Insurance-Awareness-Month.png
788
940
Admin
https://handkinsurance.com/wp-content/uploads/2017/01/HK340.png
Admin
2023-09-11 14:46:12
2023-09-11 14:46:12
Is it Time To Purchase Life Insurance?