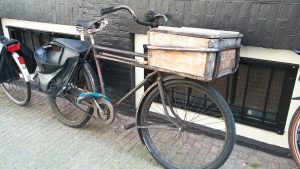 According to the National Bike Registry, 1.5 million bicycles are stolen each year. With college campuses being the biggest source of bicycle theft, it would be great if there was a way to protect your investment that was quick and easy. The good news is that more than 48% of bicycles that are stolen are recovered, but of those, only 5% are able to be identified and returned to their owners.
The National Bike Registry and 529 Garage have partnered to create a database to track and store bicycle VIN numbers. Not only can you register your bike, but you can search their database for recovered bicycles in an effort to get yours back.
Bicycle theft is a rampant problem in the US and unless you want to submit a homeowner claim (please talk to your licensed insurance agent prior) you likely won't see you bicycle again or be able to recover your losses. Bicycles are likely covered under your home, renters or condo insurance policy with your insurance carrier.
Register your bicycle today and rest assured that your bicycle is better protected and more likely to be returned in the event of being stolen.
H&K Agency Inc. is a no-fee independent insurance agent specializing in property and vehicle insurance designed to fit your needs. We represent a variety of top insurance companies in Washington State who offer terrific coverage at the best prices.  Our services are available throughout Port Orchard WA, Bremerton WA, Silverdale WA, and the surrounding areas. For all of your personal insurance needs, give our knowledgeable agents a call at (360) 377-7645.