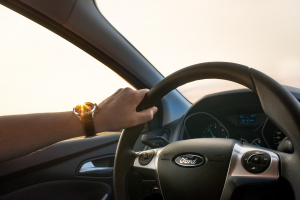 Many insurance carriers offer telematics for an auto insurance discount. If you are seeking out additional auto insurance discounts to lower your monthly or annual premium, talk to your insurance agent to see if your carrier offers telematics. Many carriers do!
How does telematics work?
A telematics device monitors how you drive a vehicle. Your insurance carrier mails you a vehicle tracking device, you insert it into your vehicle's onboard diagnostic port under your dash and then it monitors how you drive for an extended amount of time. Once it is setup, it runs all on its own until it is time for you to return it back to your insurance carrier.
The telematics device determines how safe of a driver you are based on measuring your speed, how hard you brake when stopping your vehicle and how many miles you drive. It also looks into what time of day you drive. It is important to note that not all insurance carriers follow the same guidelines or look at the same data.
Curious to see how safe you drive? Talk to your insurance agent to see if your carrier provides a driving report. The telematics device can show a detailed report of your driving habits that can help you become more aware of your driving behaviors. By reviewing this information, it can help you become aware of your current driving habits and if you are currently considered a safe driver.
Once you have completed the timeframe of using the telematics device, you'll mail it back to your insurance carrier and they will review it.
If my insurance carrier offers telematics, should I do it?
It's up to you! Not only do you receive a discount for participating, but your insurance carrier may continue to provide discounts in the future for being a safe driver. Some carriers also give you a discount every 6-12 months for being claims-free. This could be rewarded with a mailed check or a discount at renewal.
Talk to your agent about telematics or receive a free auto insurance policy review.
As your insurance agent, we want to ensure you have the best auto insurance coverage for your needs. If you are unhappy with your current premium rate, we can shop our carriers for additional discounts like telematics or simply quote you with other carriers. Don't hesitate to reach out to us.
https://handkinsurance.com/wp-content/uploads/2021/07/Telematics-Auto-Insurance-Discount.jpg
1281
1920
Admin
https://handkinsurance.com/wp-content/uploads/2017/01/HK340.png
Admin
2021-07-07 09:52:56
2021-07-08 08:45:25
Looking for an Auto Insurance Discount? Consider Telematics.