What insurance do I need for my boat?
What type of insurance do I need for my boat?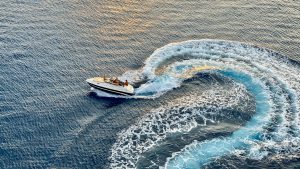 When it comes to insuring your boat, it can be hard to know where to start. Most new boat owners start by wondering how much coverage will be provided by an existing home insurance policy.  But it's often best to separate your boat insurance from your homeowner's policy or any other policies that you might have. The majority of home insurance policies either offer very limited marine specific coverage or don't cover boats at all.
If your home insurance does provide marine insurance, it's important to ask what type of coverage is included.  Most home insurance policies that have some type of marine insurance included only offer coverage when operating the boat on inland waterways, small lakes, and rivers. Coverage rarely reaches to a coastal inlet or along the beach.  Additionally, the liability limits can be restrictive.  Oftentimes a home insurance policy won't provide coverage for costs that you might be liable for such as salvage work, wreckage removal, and environmental damages.
What are the variables involved in most boat insurance policies?
There are many variables which insurance companies will consider when determining your boat insurance premiums.  Some of the most common of these variables include:
Length of the boat
Age of the boat
Overall value of the boat
Condition (Does it meet US Coast Guard Standards?)
Horsepower of the motor(s)
Where it will be kept and operated
What types of boat coverage are there?
There are two basic types of boat insurance —"agreed value" and "actual cash value."  Applying deprecation at the time of a loss is what sets these policy types apart.
An "agreed value" policy insures the boat based on its value when the policy was initially written. While it can cost more upfront, there is no depreciation for a total loss of the boat.
"Actual cash value" policies cost less upfront but factor in depreciation. The policy will only pay the boat's actual value at the time of loss. Over time, as your boat ages, your insurer will likely insist on an actual cash value policy—and your premiums will likely decrease over time as a result.
What coverages are often available on a stand-alone boat policy?
The availability of specialized coverages is the advantage of purchasing a stand-alone boat policy rather than relying on your home insurance.  Some of these coverages include:
Accessories Coverage: Coverage for a specific high-value piece of equipment on your boat, such as an expensive prop or navigation equipment.
Wreckage Removal: Covers the cost of removing and transporting your boat in the case of severe damage or sinking.
Towing: In the event that your boat breaks down, this coverage will reimburse you for the costs associated with getting back to shore.
Cruising Extension: You can get temporary, additional coverage for areas outside the USA such as Mexico or the Bahamas.
The best way to get more information on boat insurance is to ask a licensed agent in our office.  We can assist you with assessing your insurance needs and provide you with some quotes from several of the top insurance companies.
Get A Quote For Your Boat Insurance Today
Our licensed staff is ready to help you get multiple boat insurance quotes.  Because we're an independent insurance agent we can shop from multiple insurance companies to help you find the right coverage at the right price.
https://handkinsurance.com/wp-content/uploads/2021/04/What-Insurance-Do-I-need-for-My-Boat-scaled.jpg
1440
2560
Admin
https://handkinsurance.com/wp-content/uploads/2017/01/HK340.png
Admin
2021-04-27 05:52:32
2021-04-13 09:31:27
What insurance do I need for my boat?