Tired of Junk Mail? Follow these Five Simple Tips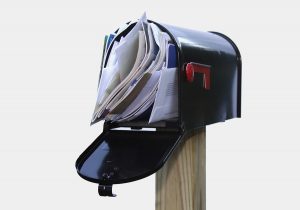 If you're like most people, you really don't like getting junk mail delivered to your home. Not only is it wasteful to you, but the companies paying for the marketing don't want the wasted funds for print and distribution either. If you'd like to be removed from mailings to your home or business, follow these easy steps!
Junk mail: Visit https://dmachoice.thedma.org and create an account. The DMA (Direct Marketing Association) created this site to help people opt out of unwanted solicitations. Seems counterproductive, but it is actually a cost savings to them as well as their customers, the companies sending you the unwanted mail.

Have a deceased family member that still gets mail? You can opt out here too by filing out the deceased do not contact list

Credit Card Offers: Opt-out of credit card offers. If you've ever filled out a warranty card, credit card application, refinance application or other form, your information was likely gathered and used for solicitation purposes. Sounds wrong, but it is allowed. If you'd like to opt-out of credit card offers from Equifax, Eperian, Innovis and TransUnion, Consumer Credit Reporting Companies simply visit https://www.optoutprescreen.com/ . You can request to be removed from credit card offers and other credit related offers right on this site – Permanently!
Phone Books: Many people don't rely on the phone books like they used to! Smartphones have really impacted this industry. If you don't want to receive a phone book and it goes immediately into the recycle bin, you can contact the phone book companies directly. Usually from their own websites. Here is DEX.
Phone Solicitations: Not exactly junk mail, but unsolicited nonetheless. If you'd like to register your phone number with the Do Not Call Registry, it is free. Click here.
Junk Email: Getting off of junk email lists can be challenging. Who knows where they get your email address in the first place. In most cases, in order to be compliant with email marketing regulations, emails must have an unsubscribe feature. Look towards the bottom of the email and simply click. Do not enter personal information, just confirm your unsubscribe desires.
While getting off of unsolicited mail, credit card offers, phone solicitations and email offers may be difficult with some work you can curb a large majority of this. While we can't help you get off of these lists, we can help you with your home, auto and renters insurance.
H&K Agency Inc. is a no-fee independent insurance agent specializing in property and vehicle insurance designed to fit your needs. We represent a variety of top insurance companies in Washington State who offer terrific coverage at the best prices.  Our services are available throughout Port Orchard WA, Bremerton WA, Silverdale WA, and the surrounding areas. For all of your personal insurance needs, give our knowledgeable agents a call at (360) 377-7645.
https://handkinsurance.com/wp-content/uploads/2016/10/bigstock-Over-Stuffed-Mail-Box-2342216.jpg
631
900
Admin
https://handkinsurance.com/wp-content/uploads/2017/01/HK340.png
Admin
2016-11-15 08:30:33
2016-10-19 08:34:13
Tired of Junk Mail? Follow these Five Simple Tips