Tips For Staying Healthy While On The Road
How to Cook Healthy Meals On A Road Trip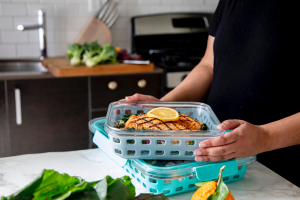 Did you purchase an RV this past year or have you found you enjoy taking road trips? With the COVID-19 pandemic, many people invested in an RV, travel trailer, or simply went camping more in order to safely travel & enjoy the beautiful outdoors. When you are taking a road trip, you do have to figure out how you plan to eat. Fast food and takeout from restaurants may be your first thought.
Have you ever considered that you can eat great home-cooked meals on the road that doesn't require much cooking at all? Of course, you can always make a grocery store run & cook just as you would cook a meal at home. But, this might mean buying all of the little things like spices, oils, etc.
In this blog, we share how to eat healthy on the road without having to spend too much time cooking. Plus, you might find you can get away with packing less.
Our basic cooking essentials – do you own the following items?
Portable Stove
Small Gas Barbeque
Pot, Pan or both
Water jug container (for cooking and cleaning pots/pans)
Soap/Sponge (for cleaning pots/pans)
Utensils and Paper Plates
Garbage Bag
Lighter
Propane Tank + an extra
A good cooler (if you are on a long road trip, we love a cooler that can plug into your car!)
Ice Packs or Ice Bag
Having the following items above is a great start. They don't take up too much space and provide you with everything you need to cook, eat & clean up afterwards.
Next, how can I prepare a delicious, healthy meal with minimal cooking?
Batch cook.
Batch cooking is simply preparing meals in your home before your trip. Choosing meals that freeze easily are key. Once you have cooked your meal at home, throw it into the freezer at least 24 hours before your trip. The day you are leaving for your trip, load it into your cooler frozen then layer on your ice packs to keep it cool. When it is time to cook, all you have to do is reheat it using your portable stove or barbeque.
Some great food suggestions –
Frozen cooked burgers (turkey, beef, or chicken)
Frozen Chili or other soup
Meat sauce/vegetable sauce
Frozen breakfast sausage links
Taco meat
Foil vegetables or entrees (prepare vegetables or entrees ahead of time & wrap in foil – simply place on your BBQ grill or unwrap and place into a pot or pan)
Frozen pizza slices
How to re-heat your meal? Either place your frozen burger on your barbeque or add your entrée into a pan or pot to re-heat on your portable stove. Within 10 minutes or so, you'll have a tasty meal!
Other meals that don't require much cooking –
Cold Sandwiches
Hot Dogs
Yogurt
Hard-Boiled Eggs
Snack foods like rice cakes, chips, pretzels, trail mix
Anything that requires boiled water such as oatmeal or noodles
Prepared meals you enjoy eating cold (tuna salad, other cold salads, and entrees)
Raw fruit and vegetables
We hope you found new tips that can help you eat healthy while traveling on the road. While we can't prepare your meals for you, we can ensure you have the best coverage for your vehicle or RV. Whether you are shopping around for the best rate or are looking to purchase different RV coverage, we are here to help.
https://handkinsurance.com/wp-content/uploads/2021/05/Staying-Healthy-on-the-Road-2-scaled.jpg
1707
2560
Admin
https://handkinsurance.com/wp-content/uploads/2017/01/HK340.png
Admin
2021-05-24 05:40:47
2021-05-08 11:49:17
Tips For Staying Healthy While On The Road