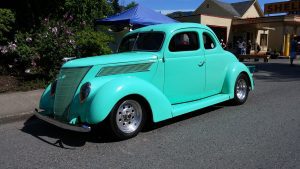 Many of us collect classic cars and for good reason – they're valuable assets and they're fun! Regardless of what you collect or why you collect it, we all share a passion for these vehicles of the past.
For those of us who are classic car enthusiasts we need an insurance policy that matches our use and ensures that the value on our vehicles is appropriate.
Insuring your classic car is not the same as insuring your every-day driver. Insurance policies are typically less expensive and are written on an agreed value. Your classic car insurance policy can be custom tailored just to your specific vehicle, stage of restoration or usage.
Here are some examples of how you can tailor your classic car insurance policy:
Example 1: If you don't really drive it but want to protect it in the event of an unforeseen claim, you can get a policy like that.
Example 2: If you use your classic car as an off-road vehicle and don't want to protect the vehicle from damages from branches or other collisions, there is a policy for that.
Example 3: For those individuals who love to take their classic car on a road trip, there is coverage to protect you if you break down & it can offer a replacement vehicle, food, shelter and more.
Example 4: Need unique parts for your classic car due to a loss? There's a policy that offers stock original replacement parts.
Each person is unique as the vehicle they collect and that is why it is imperative to talk to an insurance agent to find just the right policy for your classic or antique automobile.
Additional consideration should be made if you have a personal umbrella policy with another carrier. That carrier will typically require you to carry sufficient limits on your classic car to match the coverages on your everyday driver. This ensures you don't create a gap in coverage, even if you rarely drive it.
H&K Insurance Agency can shop through several of our top-rated classic car insurance companies. Each insurance company specializes in specific policies such as insurance for regular use users, street rod enthusiasts, classics undergoing restoration or classics that need spare parts coverage. We'll search to find the best coverage for your needs. Get a quote today.
https://handkinsurance.com/wp-content/uploads/2018/04/Classic-Car-Insurance-2.jpg
675
1200
Admin
https://handkinsurance.com/wp-content/uploads/2017/01/HK340.png
Admin
2018-05-15 08:14:06
2018-04-24 08:23:14
Is Your Classic Car Insurance Policy Customized To Your Needs?